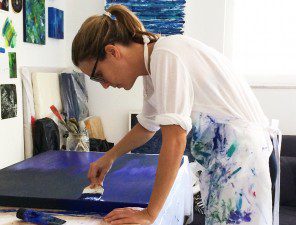 Born in Caracas, Venezuela in 1979, Vanessa Trutschel lives and works in Miami, Florida.
Working with a mix of acrylic textures, Trutschel's paintings capture the beauty behind human vulnerability. Her abstraction depicts the awakening of those raw emotions, exposing the essence of life. Her work is an echo of that.
Photography is usually the starting point to create these glimpses of life. A profound connection with nature plays an inspiring role in her paintings, in which different hues of heavy acrylic paint merge with intense depth and volume. Her linear strokes blend into thick elevated bodies of texture that extend beyond the canvas; each layer creates a pace that gives fuel to a movement, life to a moment, ultimately painting purely from reflections, responses, and interactions with daily life experiences.
"I paint views taken from inner windows, where the encounter between mind and soul becomes an experience in itself. I feel the moment as it comes, as pure as it can be, so the beauty of it remains intact. It is there, where those experiences transcend words and are felt with refreshing openness. I paint. I let go."
Vanessa Trutschel graduated from Corcoran College of Art & Design, Washington, D.C. in 2003. Her work has been exhibited in places such as Biscayne Art House, The Frost Art Museum and Collage Gallery.